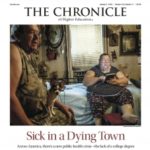 Tips on Making the Most of Your College's Location
We asked some enrollment-management professionals to suggest ways that a college situated in a seemingly less-than-ideal place could appeal to students. Here's what they said.
John W. Dysart, president Dysart Group
Challenging locations can be overcome. If you are in an urban area, emphasize the educational advantages of city locations. Entertainment venues, professional sports teams, a diverse population, museums, and cultural outlets can be a plus. Colleges in urban areas tend to have greater housing options. City locations are often ideal for internships and employment.
It helps to sell the unique characteristics of your city, such as the extraordinary architecture in Chicago, the French influence in New Orleans, or modern art in Buffalo. The theater district in Detroit (one of the largest in the country), the movie-and-television industry in Los Angeles, and the diverse musical heritage in Atlanta are all reasons to celebrate.
Colleges in rural locations should focus on vibrant on-campus experiences. Promote outdoor pursuits such as hiking, skiing, water activities, and fishing. Many small communities have attractive or historic downtown areas filled with affordable, family-owned businesses. Rural institutions often provide more chances to interact with faculty members outside the classroom, meaning even greater personal attention.
Colleges in economically depressed areas can turn an enrollment obstacle into an advantage. Appeal to the interest of students in mission and/or service prospects. Attending colleges in such places can provide openings to make a real difference in the community.
Regardless of location, it is crucial to communicate your unique academic offerings, distinctive majors, or approaches to majors — and, most important, outcomes. Emphasize how your location can positively influence the preparation of your students for career and personal success.
Nicole Foerschler Horn, president JMH Consulting
Today recruiters from hundreds of miles away may be communicating with prospective students in your backyard about their colleges' online programs — which just happens to compete with your most successful degree.
Here are three ways to stand out in a crowded and geographically limitless market:
Go after the niche. Don't offer commodity programs. If you start a master's program in business administration or criminal justice, you are entering a crowded field. It's expensive to market those programs and even more difficult to differentiate yourself. Instead, develop programs with niche audiences so you can provide a value that few other schools offer. Good examples include a master of arts in museum studies at the University of Oklahoma and a master of business and science with a concentration in biotechnology and genomics at Rutgers.
Create a unique learning experience. Make it worthwhile for students to drive to your college or attend your online program. At Queen's University, in Canada, for example, its executive-education program goes beyond video lectures and textbooks by using simulations to give students a safe way to apply what they have learned.
Foster partnerships. Forming partnerships with outside groups can help you engage with prospective students at a lower cost and with less effort. They also can allow you to offer courses that are customized and in a more attractive location. Examples include health programs that offer classes at hospitals and business schools that offer classes at a corporate headquarters.
Mary Kay Hyde, vice president of marketing Gil Rogers, director of marketing National Research Center for College and University Admissions
For prospective students, choosing a college is a lot like dating. Most want to go out with the guy or gal who's the most attractive, the smartest, the funniest. Most are probably less interested in the strange kid who's socially awkward.
But if your institution has one or more "dating" challenges, there's still hope. Maybe your campus isn't stunning, or your location leaves something to be desired. Perhaps your program offerings are a bit antiquated. Whatever your Achilles' heel, there are ways to stand out and get more students to enroll — without breaking the bank.
To start, you need to build meaningful connections with prospective students using tailored messaging. Eduventures has identified six mind-set groups that prospective students fall into on the basis of how they think about their college experience and what they hope to get out of it. These mind-sets are social focus, experiential interests, career through academics, career pragmatists, grad-school bound, and exploration and meaning.
Those with a career-through-academics mind-set, for example, respond well to messages that connect majors to careers. They respond less well to messages that highlight things like serendipitous learning, viewing it as potential distraction rather than valuable enrichment. Understanding these six mind-sets will help you deliver messages that are personalized without building a communication plan for each individual in your database.
Honing your prospect lists to focus on those most interested in your institution — or institutions similar to yours — is also crucial. Use predictive models to find the students with the highest probability to enroll, so that any communication plan has a good chance of being successful.
After you are armed with the right messaging to find the best candidates, a small investment in digital marketing, such as custom audience targeting, can pay off. You'll soon discover that your institution is infinitely "datable."