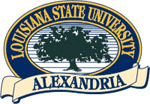 FOR IMMEDIATE RELEASE
SEPTEMBER 15, 2014 
ALEXANDRIA, LA – LSU of Alexandria is excited to announce a 21% increase in enrollment for the 2014-2015 school year.  This growth marks the largest year-to-year increase in six years and reverses a downward enrollment trend.  
"It is exciting to see renewed interest and the increased enrollment at LSUA," said LSU President and Chancellor F. King Alexander. "LSUA is serving and meeting the needs for both central Louisiana citizens and the area economy. I fully expect this trend to continue at LSUA for years to come." 
The overall enrollment at LSUA stands at 2,707 including both traditional and dual enrolled students.  When the high school students are removed, the total student population is 2,285. This number represents an 11.79% increase over the 2,044 students enrolled at LSUA in Fall 2013 and is a consequence of importing the sophisticated model of private enrollment management at LSU of Alexandria.  
"LSUA is proud of its enrollment management team as well as its faculty and support staff for contributing to the success of its enrollment growth," said LSUA Chancellor Dr. Daniel Howard. "Not only does the growth benefit central Louisiana, but it also allows for improvements to the university." 
LSUA is also proud to announce this is the second straight fall semester with a record number of incoming freshmen.  This fall, LSUA enrolled 456 first-time freshmen, a 16.03% increase over the previous fall's total of 393.  At the time, last year's figures represented the largest freshman class in 10 years.  
Continuing students are also up 6.7% from year-to-year with 1,388 enrolled this fall.  LSUA is working hard to not only attract students, but to keep them on campus with new academic programs, additional student activities and athletics.  
Another large enrollment increase comes from re-entry students. This classification is up 21.95% from Fall 2013 to 2014.  Re-entry students consist of those who have stopped out of LSUA for various reasons, but have now decided to continue their college career.  
Transfer students are also on the rise with 241 enrolling this fall, or an increase of 28.88%.    
Thanks to agreements with various parishes and the creation of University Academy on the LSUA campus, dual enrollment is up 123% from year-to-year.  These students simultaneously are earning their high school diploma as well as transferable college credit.  Currently, there are 422 dual enrolled students at LSUA.  
LSUA is also seeing a large increase in the number of international students on campus. This year, 20 foreign countries are represented at LSUA with students coming from as far away as Bangladesh, China, Venezuela and Vietnam.  Additionally, there are students from 23 states enrolled this fall.   
"LSUA is indebted to the LSUA Foundation its assistance in enrollment management.  The Foundation's generosity is responsible for over one hundred scholarships, staff support, numerous professorships and advertising," said Howard.  "The Foundation also provided funds for the McCann Calling Center and without this support, LSUA would not have been able to reach the number of student we did." 
LSUA is also seeing a large increase in the number of student credit hours. Without dual enrollment factored in, LSUA is experiencing a 15.67% increase in student credit hours over Fall 2013.  With dual enrollment, the increase in credit hours grows to 22.14% from the previous fall semester. A total number of 28,999 credit hours are being taken this fall.  Credit hours are more directly tied to tuition and fees paid than headcount enrollment and indicate the university is moving in a positive direction.  
Enrollment and credit hour growth are also manifested in occupancy rates in The Oaks Residence Hall. For the first time, The Oaks is at 100% occupancy with 304 students.  This year, 52 additional bunk beds were added to accommodate the demand for high quality, on-campus living. It is expected that additional on-campus student housing will be warranted in the near future and discussions are underway to plan for this likely eventuality.  
LSUA officially records enrollment at the end of the 14th class day.  
###
Sarah Black
Director of University Relations
427-4407
sblack@lsua.edu